Roughly 75% of Toole County residents commute into Salt Lake County for work, and as more people relocate to the beautiful Utah landscape, many homeowners are looking for a community that is close enough that they don't have a long commute, while still far enough removed that they can have a healthy separation of work and home life. For many of these new homeowners, the secret to having it all lies in a new residence in Grantsville.
In addition to the terrific housing opportunities there, Grantsville is a place of great natural beauty. There's a lot of scenic appeal to be found on the Salt Flats, the mountain ranges nearby, and the Great Salt Lake. You can spend countless days photographing the historic beauty in the old parts of town, the reservoirs, the walls of the canyons, and the tops of the mountains.
Affordable New Homes in Grantsville, Utah
We offer a number of new homes in several different communities around Utah, and there are different styles and home designs associated with each community. Our largest new development of surprisingly affordable new homes is in the elegant and fast growing city of Grantsville, Utah.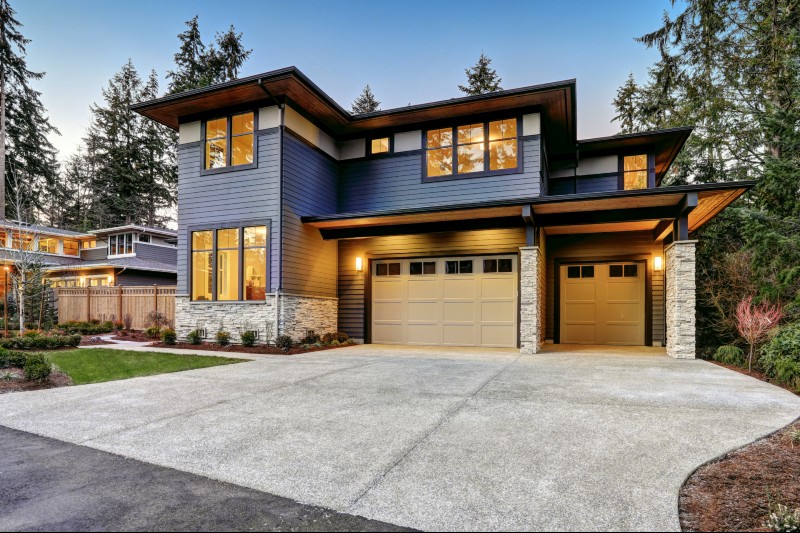 New Home Communities
Many Utah families find that Updwell communities are an ideal place to relocate to and settle down. Communities South of Salt Lake are growing by leaps and bounds due to all opportunities they offer. You can enjoy the beautiful views of Antelope Island in Bountiful, UT, and breathtaking sunsets in your new residence. At Rice Farms in Farmington, UT, your home will be situated close to area schools, and there are affordable houses which you can purchase on a budget.
You might enjoy the serenity of a new home in the Highlands community, close to the Stansbury Mountains. If you're looking for a luxury dwelling, you'll find the perfect residence at Tuscan Hills in St. George, UT. If you're more interested in relocating to southern Utah, you'll find just what you're looking for at Rusted Hills in beautiful Washington, UT.
Quick Move-in Home Options
If you're looking to settle in quickly, perhaps to accommodate new job requirements, there's a perfect quick move-in opportunity which awaits you in the Tuscan Hills community of St. George, UT. With three bedrooms and a spacious 3,000 sq.ft. of living area, this is the ideal home for you to move your whole family in quickly, and start enjoying the benefits of Utah living.
Home Designs
There is a whole catalog of home designs to choose from, with six very affordable 1-UP Series plans available. There are also the more luxurious and expansive dwellings belonging to our 3-UP Series. A sampling of the architectural designs include the Arlington, Bellevue, Chesapeake, Cumberland, Florence, McCall, Monticello, and Oakland styles. Our 2-UP Series offers strong value at affordable prices, and some of the home designs in this group include the Aspen, Bridgeport, Bristol, Manchester, Normandy, Raleigh, and Weston styles.
Home Builder in Grantsville, Utah
Since 1989, we have been building some of the finest new dwellings in the state, and in the whole country for that matter. We'll be glad to work with you to find the perfect home for your family, in a community to your liking.
Custom Homes
At UpDwell, we can work from a full selection of fully customizable floor plans to suit your taste, or we'll be glad to collaborate with you on a 100% original design that is completely your choice. Every home we build is unique in its own way, because we take whatever time is necessary to ensure that it has its own distinctive features to satisfy your wants and needs in a home.
Standard Home Features
When you purchase an UpDwell home, you can count on receiving all the best features as standard in your home. Right from the ground up, you'll have a solid, water-tight basement, a 2 or 3-car garage, interior and exterior to suit your taste, a kitchen with all the most modern appliances and cabinetry, a bathroom with contemporary shower, bath, and vanity, and superior craftsmanship throughout the home.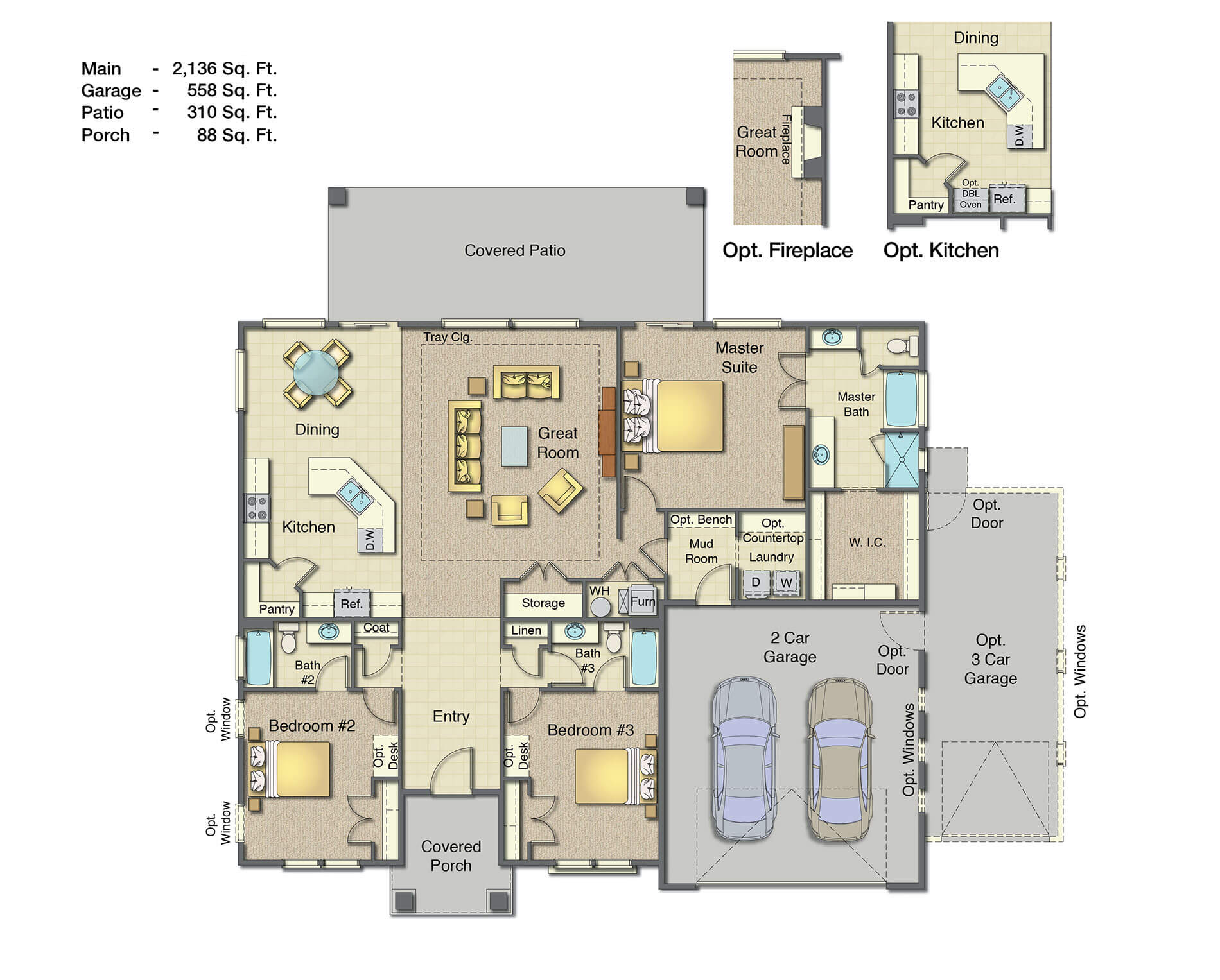 About UpDwell Homes
UpDwell Homes was founded in 2012, by two brothers with a combined 57 years of experience in home-building. They bring all that knowledge and experience to bear on the creation of each new home they construct in the area, striving for 100% customer satisfaction with every home buyer who purchases from them.
Points of Interest
There are a number of reasons why you might want to move here, apart from the appeal of having a brand new home in this rapidly growing region of the country. Here are some of the appeals offered by the region which you can enjoy when you become a new resident.
Grantsville Area Attractions
If you're wondering about why you should choose this location over any other region of the country, consider the fact that in 2017 Tooele County was the 7th-fastest growing county in the entire country. That kind of growth means job opportunities and it means that there's something pretty special happening in the area. In addition to other powerful attractions for new home buyers, realtor Chris Sloan confirms that houses in Tooele County run as much as $60,000 – $70,000 cheaper than those situated in Salt Lake County. "You're standing 35 minutes from downtown Salt Lake. And yet, you're also 35 miles away from the hustle and the bustle, you're 35 miles away from cost-prohibitive housing," added Sloan.
Cost of Living
This beautiful city enjoys a cost of living index which runs 13% below the national average, which means your dollars will go further when you live in this area. The cost of housing and utilities are both well below the national average, with groceries being about the same, and transportation costs being slightly higher than the national average.

Weather & Climate
Our region enjoys a moderate climate, with about 15 inches of rainfall on average each year. The high temperature in summer will be around 90 degrees, and the winter low will usually be somewhere around 18 degrees. Each year, the city receives only about 53 inches of snow, far less than northeastern cities, but a little more than average for the southwest.
Home Prices & Values
The median value of houses in Tooele County is approximately $265,000, and that value represents a 5% increase over the previous year. The median list price per square foot throughout the county hovers around $130, as compared to the Salt Lake City figure of $214 per square foot.

Population
The population as of 2018 was roughly 11,500 individuals, of which about 62% were over the age of 18. The percentage of citizens over the age of 65 was 8.6%, with the gender split between men and women coming in at a ratio of 55% men and 45% women.
Quality of Life
The city has been recognized for being one of the Top 10 Friendliest Cities in America, and it has a lot to offer, such as recreation, education, medical services, police and fire service, fine arts, and houses of worship. Everything you need to enjoy quality of life is to be found right here in Grantsville, UT.
Interested in Buying a New Home in Grantsville, UT?
Situated in a breath-taking area of the country, in a magnificent setting that is hard to beat for quality of life and cost of living. If your desire to move has been piqued by all the advantages described above, take a look at our home designs and see whether an UpDwell home is right for you.
Grantsville New Home FAQs
Below are listed some of the most commonly asked questions about living here. Contact us if your question is not shown below.
Q: How Much Do New Homes Cost in Grantsville, UT?
Q: What Does UpDwell Homes' Warranty Provide?
Q: How Much Does a Custom Home Cost to Build in Grantsville, UT?
Q: Does UpDwell Home Offer New Home Financing?
View Some Of The Work We've Done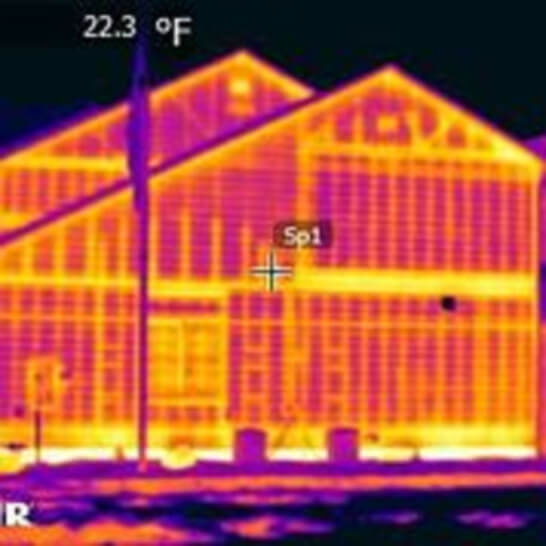 Thermal imaging can detect where homes are losing energy. In this picture of a typical home, the light areas represent heat loss. Heat is escaping from each stud in the framing.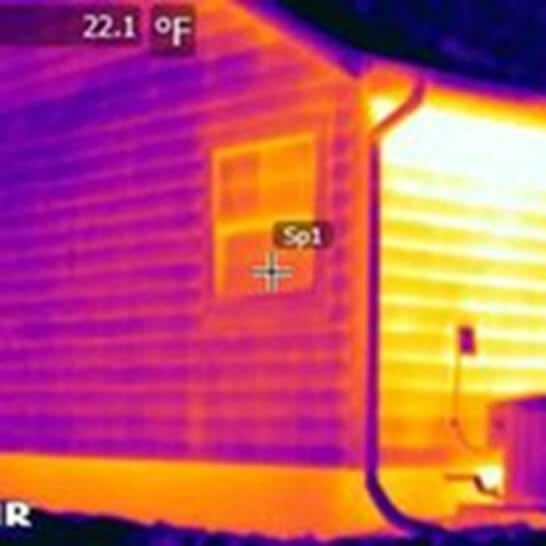 GreenLean™ designed homes have a tighter exterior envelope and lose much less heat. This translates to more energy savings and money in your pocket each and every month you live in your home thanks to the UpDwell home builders in Grantsville, Utah.